We sourced a modern putty substitute designed for steel casement windows to renovate the windows in the engineer's garage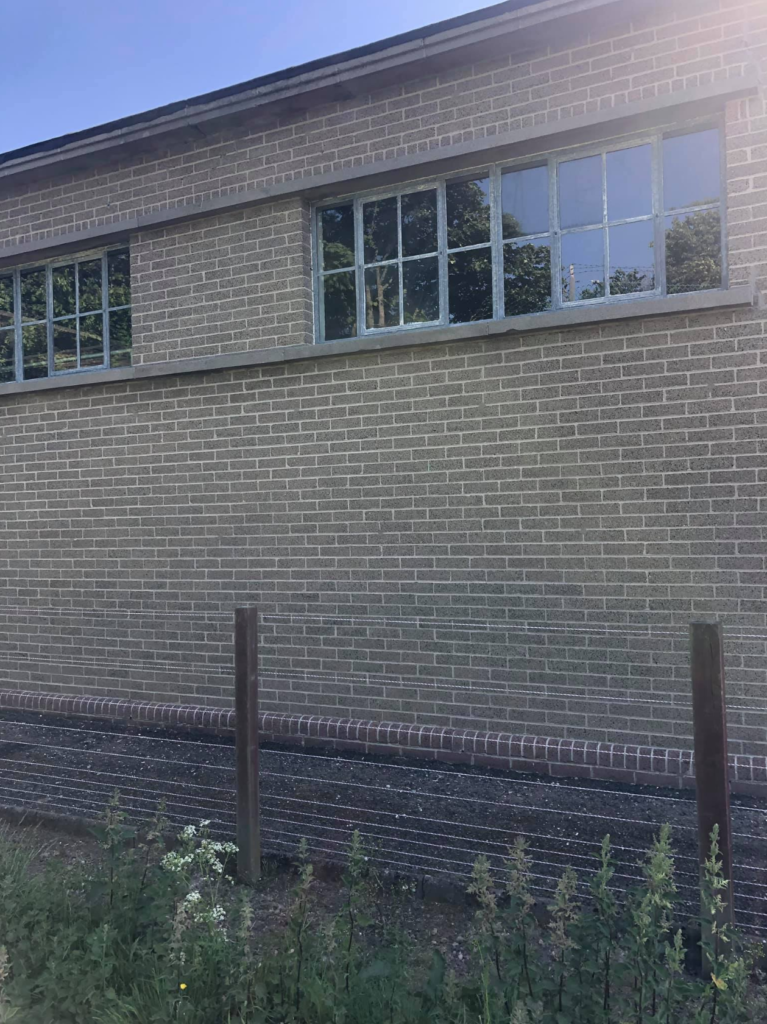 We've paused plaster removal works in the main build whilst we await the delivery of 100 more rubble sacks. Although Fife Council are opening their recycling centres from Monday we're unclear as to when we'll be permitted to dispose of our plaster and rubble.
There's always plenty to be busy with here though and it's given us the opportunity to tackle a job that's been on our to-do list for years.
Late last night we finally finished removing the old blast film and fixing broken panes in the Engineer's garage 😀 A sizeable number of windows on the west elevation were broken when we bought the site, many as a result of a ? pellet gun.
Putty Replacement
We had good intentions years ago when we ordered the replacement panes from Leuchars Glazing. After some fairly disastrous attempts to replace the glass using traditional putty we sourced a modern hybrid polymer-based cartridge applied Heritage putty from Hodgson Sealants that is compatible with steel framed windows. It's fairly expensive, with one tube used for every two panes replaced, but George has found it easy to apply and work.
The blast film removal wasn't a particularly pleasant task .The film appears to have been applied with vinegar. Removing the film, with razors, released the most horrible stale vinegary stench 🤢. The sticky residue left behind was removed with Zep Sticky Stuff Remover, razors and a fair bit of kitchen roll.
We've been keen to retain our original metal framed Crittal windows. It's a personal view, but I feel too many metal windows have been lost to make way for rather unsympathetic plastic ones. Whilst I understand the real problem of condensation encountered with metal framed windows in our unheated garage space that won't be a problem.
The Scottish Crittal supplier in Helensburgh has dated our galvanised Crittal windows, in the Engineer's garage, to the 1960's. They are in great condition for their age unlike some of the non galvanised ones in the main build which are rusted and no longer close effectively.
The main build replacement Crittal windows will be double glazed units which comply with required U values. The double glazing will remove some of the condensation concerns although the frames aren't thermally broken and so sensible ventilation will still be required. The modern replacements have dummy projecting hinges which retain the characteristic original look and feel of the originals but with the security of multipoint locking.
Next job will be priming the galvanised frames then painting Anthracite Grey (RAL 7016) to match the new Crittal specified for the main build.