We spent this weekend stripping the original vestibule back to the brick ready for redevelopment into the formal entrance at Hawklaw.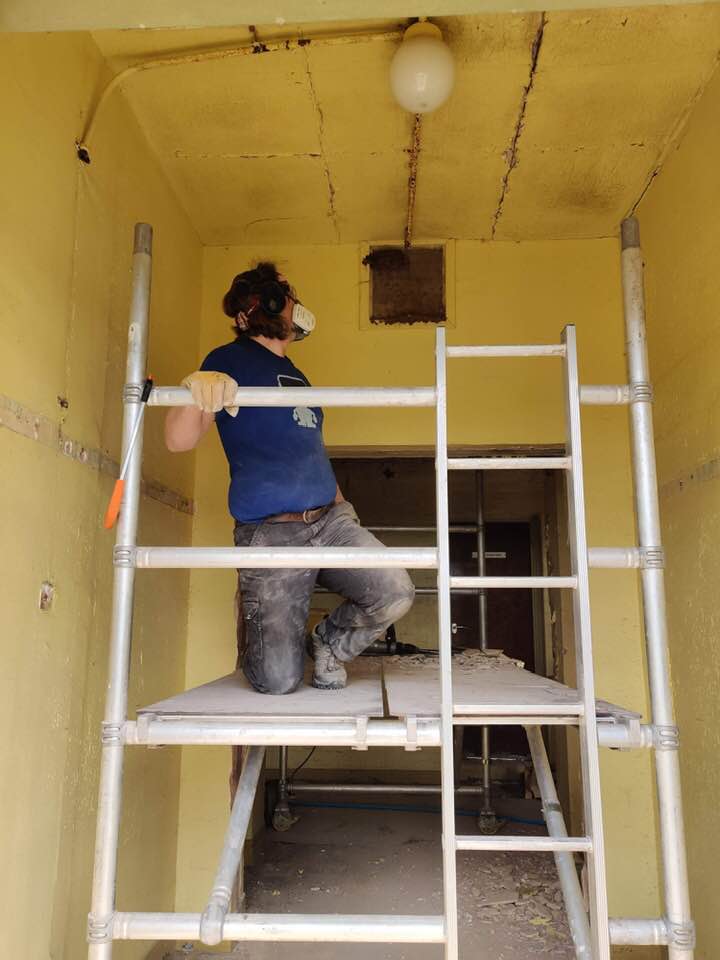 Pretty pleased with progress in the vestibule yesterday. Seven hours in and the job is over half way there.
The double skinned wall took quite a bit of effort to demolish, especially the header bonded courses ( where the ends of the bricks are on show). George used the demolition hammer for most of the day. A wide chisel bit lifted the linoleum tiles and removed plaster. A point chisel bit broke the cement bonds between bricks and the concrete lintel into small chunks.
Asbestos
It's worth mentioning asbestos at this point. Asbestos was widely used in 1940's construction, our building being no exception. Owners of buildings such as ours have a legal obligation to ensure any building undergoing extensive refurbishment or demolition has all forms of asbestos identified by means of a destructive demolition asbestos survey.
Our demolition asbestos survey identified many obvious and some surprising asbestos containing materials (ACM's).
Linoleum tiles and their adhesive can often contain asbestos, so too can toilet seats and sink pads ( the pad under your stainless steel sink that acts as sound deadening).
Tens of samples were taken throughout the building and black crosses were marked on the areas sent for analysis. I spotted one of the black crosses today on the linoleum tiles we were lifting in the vestibule. The tiles and adhesive tested negative for ACM.
Linoleum tiles and adhesive tested in the girls toilets and locker drying room tested positive for ACM's. Those tiles were safely removed and the adhesive painstakingly scraped away by specialist contractors back in 2016 ahead of the administration block demolition.
Asbestos cement is one form of asbestos that we've found can reasonably be removed by householders. Thoroughly soaking the cement, being careful not to damage or break the sheets and using well fitting masks are sensible precautions even although the risk of fibre release, for undamaged asbestos cement, is fairly low.
We've literally disposed of tonnes of asbestos cement from the site over the years (a sheet of corrugated asbestos is surprisingly heavy). The double garage and both incinerator buildings demolished had asbestos cement roofs and some of the more modern extensions to the rear had asbestos cement guttering and downpipes.
We were fortunate that until a few years ago our local recycling centre accepted double wrapped asbestos cement for disposal. A form detailing the type and quantity, its origin and the person disposing of it were recorded by the council which was subsequently audited by SEPA.
More recently we've paid £300/ tonne to dispose of our asbestos cement and a further £25 for the required SEPA certificate. Little wonder asbestos is found fly tipped.
Asbestos has been one of the many, many things we've had to learn about over the years we've owned Hawklaw. Every day is a learning day with a self build project.
Hoping to finish in the vestibule later today, update and photos to follow